Get Constructionline ACCreditation

WHAT IS CONSTRUCTIONLINE ACCREDITATION?
Constructionline is an organisation that works with buyers to help prequalify their supply chains.  Their aim is to independently vet and verify compliance and strength of a business's operation, in doing so a buyer can have confidence that their working partners are suitable to trade with. 
These assessments look at numerous aspects of a company's business before getting "Constructionline accredited", however, their main area of focus is a company's Health & Safety, Financial compliance, Environmental performance and Quality management.
At Safety Place we can help you not only get up to the standard required to pass your assessment for Constructionline or any SSIP, but also help you carry out the application itself.
WHY IS Constructionline ACCREDITATION BENEFICIAL FOR MY BUSINESS?
Gaining a recognised Health & Safety or supply chain accreditation such as Constructionline gives your business several benefits.
Allows you to work with commercial and government-based organisations who require to see evidence of Constructionline accreditation before offering work.
Demonstrates to your clients that your business has been independently verified against a number of compliance-related standards. This will give confidence to your clients that you aren't going to be a safety or financial headache for them. Plus, you'll get a nice sticker for the van.
Gives you access to the "Constructionline Marketplace", which gives members the ability to work with around 200,000 other businesses across the UK.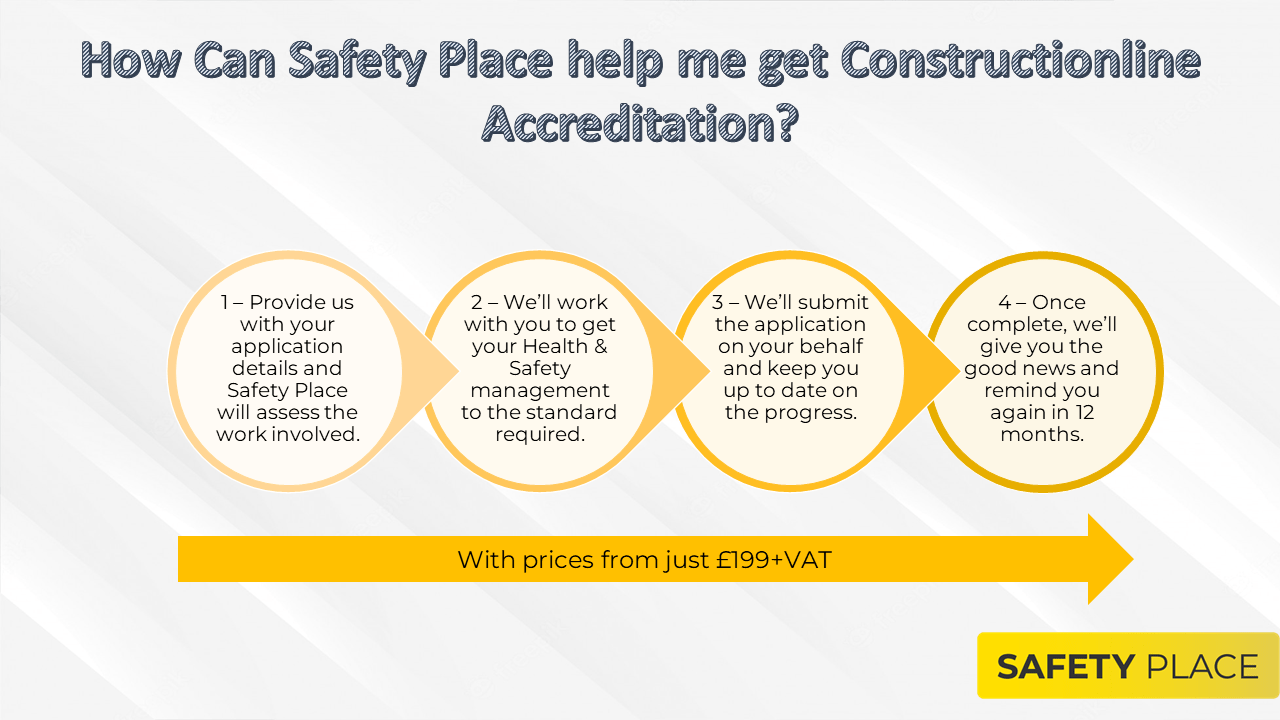 HOW CAN SAFETY PLACE HELP YOU GAIN CONSTRUCTIONLINE ACCREDITATION?
We can help you gain your Constructionline accreditation, with years of industry experience we have the expertise to make the process as easy as possible as below:-
You provide us with your application details for us to assess the work required.
We will manage your application and work with you to get your Health & Safety management and documentation up to standard.
Once we have the required evidence, we will submit the application on your behalf and keep you up to date on its progress.
Once completes, we will give you the good news and make a note of when you need to renew it.
Our Fees for assistance
Acclaim Assistance – £199+VAT
Constructionline & Acclaim Assistance– £399 + VAT
Constructionline CAS assistance – POA
NB – Additional charges of membership are applicable from Constructionline for your assessment and not covered by Safety Place. Evidence of industry related training and compliance will be required to be provided to us for accreditation completion.